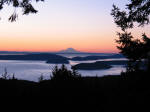 On this beautiful sun-drenched winter day with Mount Rainier, Mount Baker and the Olympics striking in their snowy glory and the islands stretching out around us, we are feeling extraordinarily fortunate to live in this wondrous place. What a wonderful home to return to after more than a year of adventures in travel and work.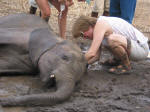 I have donned layers of fleece and down as I adjust to winter on Orcas after just returning from an amazing three months spent working as the doctor for an association of safari lodges in South Luangwa National Park in eastern Zambia. I cared for tourists ranging from swooning Italians to feverish Norwegians and for expatriate and local safari camp staff,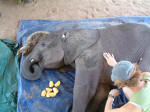 and I even started an intravenous line on a baby elephant in need of rescue. I spent most of my time volunteering at the local rural health center caring for the local Zambian population. My local patients suffered from ailments ranging from black mamba bites to diarrhea and malnutrition to severe burns to malaria to AIDS. I struggled with the challenges of working with very sick patients without any laboratory or x-ray capability and with only a very basic array of medications.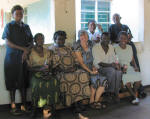 At times caring for the appalling number of AIDS patients in a place where 20% of the population is HIV positive was heartbreaking. Some days when I felt beyond frustrated by the lack of medicines available to me, I reassured myself with the knowledge that at least a few patients were better cared for each day because I was there.


I'm afraid I never managed to mail out Christmas cards last year. My excuse was that I had just returned from a trip with my Dad to Krabi and Chiang Mai in Thailand (one month before the tsunami) and Siem Reap, Cambodia to see the wonders of Angkor Wat. Bill and I were then busy packing for our December 28th departure for London where I spent three months studying for a Diploma in Tropical Medicine and Hygiene at the London School of Hygiene and Tropical Medicine.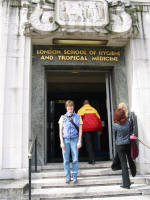 I learned to recognize a malaria-carrying Anopheles mosquito at twenty paces among other new skills, and I reveled in being a student again with my 65 classmates from 30 countries. Besides having amazing parasitology labs where I studied parasitic worms and the nasty habits of tsetse flies, I also had lectures and seminars led by experts from the World Bank, the World Health Organization and the London School of Economics in addition to the charming Brits of my school. To top it all, by wonderful serendipity, my dear friend, Kris Prenger from Shiprock days, was also studying at the London School, and I so enjoyed being able to spend time with her again. What an amazing educational experience!


While I trotted off happily to school each morning, Bill slaved away on his software project for Uncle Sam in our beyond-belief expensive flat in posh Marylebone. Being two of twelve million souls was a shock, but we both enjoyed the wonders of London, especially the museums and living history. On my free weekends, we communed with the ponies at Dartmoor National Park, wandered with the crowds at Windsor Great Park, discovered that Brighton is NOT a quaint seaside village and strolled through lovely Regents Park on our doorstep.

Fresh from all that education and three days of exams, I traveled to The Gambia, the poorest and smallest country in Africa, with twelve classmates and poor Bill. For any of you wondering, Gambia is definitely not a garden spot, and we can't recommend it for any sort of travel agenda other than studying the reality of medicine in the developing world. After seeing the horrors of the National Psychiatric Hospital, which was formerly the jail in Victorian times, my classmates and I were all certain that we preferred the tribal psychiatric healer's method of chaining psychotic patients to a mango tree. Proving what a wonderful husband he is, Bill endured endless rounds of Scandinavian tourists badly singing "Country Roads" to the accompaniment of our hotel's karaoke machine while awaiting my return from each day's studies — greater love hath no man! He does remain convinced that I don't deserve the "Hygiene" part of my diploma since I still practice the "Five second rule" despite all the information to the contrary.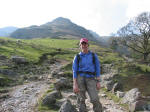 After two weeks of suffering in Gambia, Bill was overjoyed to spend a week recovering in the lovely Langdale Pikes region of the English Lake District. Every day we awoke at our end-of-the-road inn to see the pink blossoms on the cherry tree outside our window and the green, green hills beyond. We followed the wonderful stone trails on delightful hikes past fields of gamboling newborn lambs behind piled-stone fences up into a world of surprisingly craggy peaks.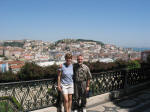 Refreshed, we headed for Lisbon, Portugal where I attended the biennial meeting of the International Society for Travel Medicine (could there be any more perfect medical group for me?) and took yet another exam to receive a Certificate in Travel Medicine. We both enjoyed wandering through the narrow cobbled streets of white-washed Lisbon.
After my meeting ended, we searched for lost Moors in castle ruins in the hills above Sintra, the old royal retreat, and we spent time on the Atlantic coast not eating the salt cod sold by the black-petticoated widows of Nazaré. On our favorite day trip, we imagined quaint old Portugal in the dreamy walled bougainvillea-strewn village of Obidos.

After all the traveling, we and our faithful "rez dog" Scarlett were relieved to finally be home to enjoy summer on our beloved Orcas Island. Visits from Bill's daughters, Kim and Sheri, and their families, Bill's brother, Bud, and his wife Susie, Bill's sister, Ginnie, my Dad, my cousin, Dale from Dallas and our dear friends, the Redds from Santa Fe, gave us wonderful memories of hikes on the mountain and cookouts on our beach. We ended the summer with a quick visit to Carmel where I joined Bud for surfing lessons while Bill and Susie cheered us on from the safety of the beach.


While Bill worked long hours finishing his software project, I wondered what I would do with my new and very expensive knowledge – living in one of the world's most expensive cities while the dollar was at a many-year low made nothing "cheap as chips." When the opportunity to work in Zambia came up, I jumped at the chance.

I lived at a safari lodge called "Flatdogs" (local slang for crocodile) during my time in Zambia, and from the first night when I was awakened by a herd of elephants chomping the bushes outside my house, life in Africa was ever-exciting. Hippos snorted and grunted in the river in front of the house and grazed on the grass outside at night.
Hyenas whooped by my window, and one night six lions wandered by the house calling to each other in their body-rattling roars as they passed. The wildlife inside the house provided almost as much excitement with every foray into the shower becoming a mini-safari of giant mutant crickets, beetley things, huge black millipedes, and gargantuan spiders.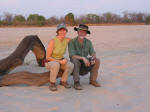 Bill spent the middle of the three months enjoying the adventure with me. We spent time in the "bush camps" in the heart of the national park tracking lions on foot, happening upon pairs of mating leopards, dissecting poo from every animal imaginable (who knew shiny ant heads show right up in aardvark droppings), flying over fleeing crocodiles in a microlight plane and defying death in the rattletrap shining chariot of a four-wheel drive truck given me to drive. I wrote about our experiences in emails to some family and friends which took on enough of a life of their own to end up being published in the local Orcas paper. (All are on our website at www.diane-bill.info with photos if you can endure any more after reading this letter!). What an amazing, incredible adventure we had!!


After our wondrous year of travel and learning, we feel so blessed to return home. To have lived where lions called outside our grass hut at night and vervet monkeys played freely in the trees, where nature is still truly wild in all its intricacy, was a wonderful gift. To be mindful of our great good fortune to live in a place where needed medications and medical care are readily accessible and most children live to grow old is a sobering challenge.

Bill and I hope for you a joyously Happy New Year filled with laughter, love, an appreciation of the world's wonders, an adventure or two of your own, and the chance to throw at least one starfish back into the sea.

With Love,

Diane and Bill

P.O. Box 639
Eastsound, WA 98245
dboteler@rockisland.com