NAVIGATING THIS WEBSITE
Click on any underlined subjects or on any of the logos or pictures to go to the associated website.
WHERE TO STAY
Accommodations can be tight on the island during July, the height of our summer season. We can't stress enough the importance of making reservations as soon as possible.
CAMPING
Moran State Park has formal camping facilities, but reservations are required and book up early.
FOR AN HONEST TO GOODNESS ROOF OVER YOUR HEAD...
1)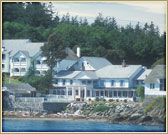 The Outlook Inn (1-888-688-5665) is located on the water in Eastsound, the main town on Orcas, so this inn provides easy walking access to all the restaurants and stores in Eastsound. They have a number of different kinds of rooms, including charming rooms with shared bath in the main building for $84/night, nice motel type rooms in the East Building for $150/night (most would sleep 4 people), and 2 lovely suites in the Bay View Building for $215-245/night.
2)

A lovely B&B, about one mile from Eastsound run by friends who are retired National Park rangers, has 4 rooms reserved which can sleep from 2 to 4 people. Unlike many B&Bs on the island they welcome children. Rates range from $110 to $155/night including breakfast for 2. Additional persons are $25/night. Contact them by phone at 888-371-2175 or by email at Innkeeper@KangarooHouse.com.
MULTIPLE LODGING LISTING SITES
Orcas has lots of B&Bs and small inns but only a very few places with more than a few rooms. We know of at least 3 weddings on the island that weekend, and some inns and B&Bs are already booked. Keep calling around or contact us, and we'll try to help you find a place to stay.
The island really has too many places to list them all. The following three sites all have extensive listings with descriptions, phone numbers and website addresses for accommodations on Orcas: (See below also for some of our personal favorites either because of the place or the innkeepers or both.)

- Has a descriptive list of many B&Bs and small island inns with their websites.

-Also has extensive listings for places to stay with phone numbers and websites as well as information about transportation and activities.
- The official Orcas Chamber of Commerce website also has extensive listings (including a lodging vacancy Hotline) for most of the accommodations on the island as well as lots of other information to make your visit even more fun!
Orcas Island Eclipse Charters has a very extensive list of places to stay on Orcas with website links.
SOME OF OUR OTHER PERSONAL FAVORITES (EITHER FOR THE CHARM OF THE PLACE OR THE INNKEEPERS)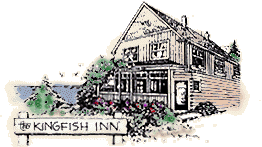 The Kingfish Inn is a lovely B&B looking out over the waters of Westsound above a favorite island restaurant (only open until 7:30 pm, so no disturbing your sleep) run by a delightful couple. It's only a couple of miles from our house.
Spring Bay Inn - Another wonderful B&B located on it's own 40 acres on a lovely cove near Obstruction Pass State Park (about 8 miles from Eastsound). In addition to their lovely setting, their special touch is morning (and sometimes afternoon) kayak tours led by the owners who are retired California Park rangers. Tough to get reservations here, but it's a special place.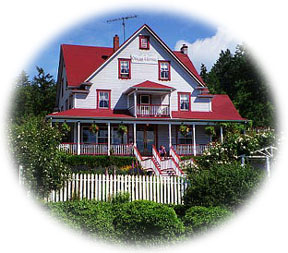 The Orcas Hotel - An historic hotel right at the Orcas ferry landing..nice rooms and very convenient for walking on the ferry. There are several small shops by the ferry landing and a tasty restaurant and bakery (where every self-respecting islander gets their latte or mocha when in line for the "red eye" ferry) right in the hotel.
Once in a Blue Moon Farm - is just at the bottom of our mountain and has everything from a 3 bedroom house to single rooms set in lovely gardens on a farm complete with 5 llamas, sheep, goats, chickens (who live in a brightly painted travel trailer...I don't think the chickens use it for traveling) and horses. You can include horseback riding on the extensive trails around our mountain during your stay. Very convenient to our place and only a few miles from the ferry landing.
The Inn on Orcas Island an absolutely first class B&B in Deer Harbor.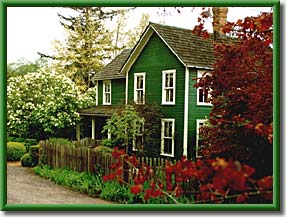 Turtleback Farm Inn -(1-800-376-4914 info@turtlebackinn.com) - is a charming B&B not far from us in a lovely pastoral setting that has received rave reviews over the years.
And too many more great places to mention...I really think it's hard to go wrong with the inns and B&Bs on Orcas.