Nsefu Bush Camp
While Bill was still here in more than spirit, we leapt at the chance to spend more time in the "bush camps," all located more remotely inside the park. Most guests are delivered to these camps in chauffeured safari-vehicle style. We, however, needed to deliver ourselves in my shining chariot (rather short on style, I'm afraid) in case I had an emergency call. We followed directions (while surviving my first true four-wheel driving experience) to the park gate where we were met by two crazy Aussies sent from the camp in a Land Cruiser. We proceeded to follow them on a wild ride (a high-speed chase actually) through dry washes and hairpin turns screeching to a halt at Nsefu Bush Camp.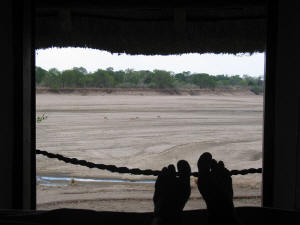 Nsefu sits on a wide meander of the Luangwa River with neat little stucco rondavels looking out over the river and animals below. During our first afternoon siesta, we lay on our bed in the sweltering 104-degree heat watching the pukus and elephants and pied woodpeckers braving the midday sun. The first morning we awoke to see a lion-shaped lump lounging on the sand just upriver. Sure enough, the lump morphed into the real thing – a dark-maned male with two lionesses resting on the bank above him. While we enjoyed our early morning breakfast, we watched unsuspecting pukus sneak down to the river for a drink and then flee in panic when they finally sensed the lions. Fortunately we were watching the G-rated version of nature that morning – no murders and no sex. The lions just lay regally and surveyed their kingdom.
Admiring the lion-shaped lump
at breakfast

Said lump on the move
(we were standing just above him)
On our first afternoon at Nsefu, we had our own private game drive. Kerri, our genial South African guide, had seen a female leopard that morning near camp, so we went in search. We had some fleeting shadowy glimpses of leopards on our previous trip to Africa, so we were as excited as kids at a birthday party to see one during the day. Suddenly Kerri stopped the car and loudly whispered "Look, there she is!" Lying perfectly camouflaged under some low brush just feet away, we saw her. Leopards are one of nature's most beautiful creatures with their dark rosettes set against golden fur. We sat enthralled for long minutes watching her rest and having trouble imagining that she was so powerful she could carry a puku or impala weighing more than she up into a tree. A magnificent creature!
Just before lunch on our second day at Nsefu, I was a bit disappointed to hear that there was a call for me. "Calls" in the bush camps, lacking telephones and often power, mean talking on the "Valley All" all-purpose, every-busy-body-in-the-Valley-is-listening radio channel monitored by every camp. I once heard one of the charter pilots call up Moondogs Café at the airport to order his English breakfast with "extra bacon" while flying towards Mfuwe. I learned I was needed at Mfuwe Lodge, about 25 miles and over an hour's drive to the south.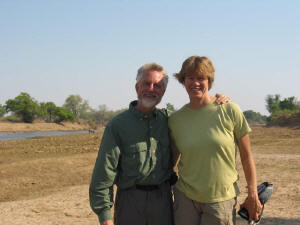 Happy Hippos (those lumps
over Bill's right shoulder)
Calls to the doctor are frequently placed by lodge staff who have been told to say that it is urgent that the doctor comes, but do not know, or will not say, exactly why. Sometimes it's because it's not considered good form to discuss a patient's medical problems over the radio. Other times, it's simply because a paying guest is complaining and the staff would like the doctor to take the problem off their hands. I frequently don't know what to expect (i.e., what I should bring) or how rapidly I should try to respond. Invariably, I give in to the possibility it might actually be a real emergency and go as soon as possible.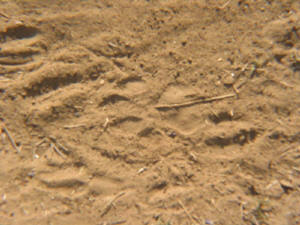 The track of one beautiful cat
and an unsuspecting impala
Accordingly, we cancelled the special excursion that had been arranged for us to a neighboring camp, grabbed some water bottles and prepared to go out in the midday sun – ordinarily the exclusive turf of mad dogs and Englishmen. Daoudi, the very generous camp manager at Nsefu, decided we should drive the "short way" through the park so we could travel there and back in time for the evening safari drive. Despite having Bill's handy don't-leave-home-without-it better-than-a-trail-of-breadcrumbs GPS with all the camps dutifully entered in, Daoudi insisted we take Baron, the game scout, with us as a guide.
[Bill did require reassurance that his skills with the GPS were not being doubted. The possibility that the scout (who grew up here) needed practice finding his way around and was counting on Bill to rescue us if we got lost left Bill strangely unconvinced. The truth is "the doctor" is considered too valuable an asset to toss casually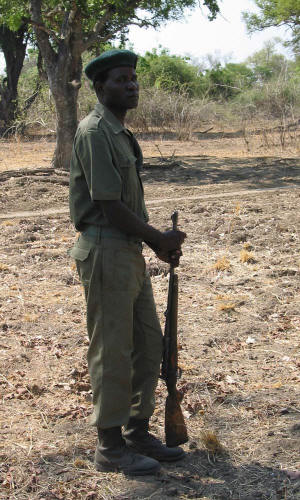 into the bush – woe to the camp manager who manages to "lose" the doctor on his watch. Sadly, my predecessors have returned rather low marks when their wilderness skills have been tested. In fact, the last time one of the doctors visited Nsefu, our very same Daoudi had to mount an expedition into the bush to find the poor chap. I hasten to point out that I have never gotten lost, gotten stuck in the mud, run into a hippo, or danced on the Flatdogs bar…yet.]
We loaded up the chariot with Baron, holding his elephant rifle carefully between his legs, sitting in the front passenger seat. Now I understand the meaning of "riding shotgun." Bill and his GPS sweltered stoically in the back seat unwilling to stay in the luxury of camp and miss out on the fun.
So off we went over the bumpy barely-a-road turning whenever Baron pointed his hand left or right. The chariot plowed through the sandy low-running river like a champ while Bill offered helpful four-wheeling instructions from the back seat like "DON'T SLOW DOWN IN THE SAND!!", "DON'T SHIFT NOW – KEEP IT MOVING!!" or most helpfully "WHAT ARE YOU DOING?!!" when I disengaged the clutch on a particularly steep section of sandy bank. Okay, so we did have a second or two of Great African Scream Machine free fall, but no harm done. I mean really! I'm sure seeing us hurtling down the bank towards the river was quite a sight for the three giraffes leaning down to drink with their long legs splayed out awkwardly. The trip through the 106-degree heat was like the best E ticket (yes, I'm old enough to remember E ticket rides!) oven-baked combination of The Jungle River Adventure and Mr. Toad's Wild Ride with a bit of Dumbo thrown in when I hit bumps a little too hard.
We zoomed past herds of elephants, a flock of white-backed vultures sitting in a tree drooling over a stinking buffalo carcass, a herd of male eland with their spectacularly spiraling horns and our first glimpses of adorable, spindly baby impalas. It was definitely a keep-your-arms-and-hands-inside the vehicle kind of trip. Talk about a house call. I thought that if driving to see a patient was always such an adventure I wouldn't mind being on call!
One hour, several liters of blessedly cold water and one satisfied not-so-ill-after-all patient later, we bumped and twisted the same trip in reverse. Hot and tired, we opted for a Mosi (the local Zambian beer named for Mosi Oa Tunya, the Smoke that Thunders, otherwise known more prosaically as the mighty Victoria Falls which is shared by Zambia and Zimbabwe) and a gin and tonic (which Bill swears by to ward off those pesky malaria parasites, though he did acquiesce to his travel-doctor wife and agreeably popped his Malarone every day – that is, if I remembered for him!). Mosi fortunately isn't the genuine local "beer" which is called kuchasu , a potent, nasty, fermented brew of maize, water and sugar.
A mess of eagle and python
After rehydrating, I was just readying for a lovely cool shower when Bill came rushing in shouting, "Grab your camera. You've got to see this!" In a tree right beside the open-air bar, one of the guides had found a juvenile western banded snake eagle and a python bound together in a better-than-the-Discovery-Channel battle of life and death. The eagle, being young and inexperienced, had grabbed the python too far back toward the tail for its talons to crush the vital organs. (We think the eagle must have skipped out on Python Capturing and Killing 101 in snake eagle school). The python was able to retaliate by coiling itself around the eagle and was squeezing ever tighter. The eagle, wings both oddly askew, had one talon wrapped around the snake in a situation that seemed to be the African version of a "Mexican stand-off."
The consequences of skipping
python-catching class
Mesmerized, we watched as the eagle struggled, and the snake slowly tightened its grip. The eagle's terror-stuck yellow eye blinked, blinked, blinked – then stayed closed, but its talon never lost its grip. We thought the drama would go on for hours, so we headed out on a night game drive as dusk fell. We couldn't believe it when the guide told us later that she'd left for a few minutes to retrieve her flashlight and when she returned, the eagle was clutching the branch in a daze with one wing held oddly. The python was never seen again. The next morning, when the guides went to check on the eagle, the bird flew off to another tree, looking weary but thankfully alive. We wondered if maybe he would decide to take up fishing, the taste of snake now possibly tending more toward sour grapes.
Contemplating the one that
got away
That night we enjoyed a congenial dinner with our fellow guests, a group of Dutch folks who had challenged the guide to an impala pellet (yes, that kind of pellet) spitting contest on our morning walk. We returned happily to our rondavel looking forward to a peaceful night's slumber. After mounting the steps to our veranda by the dim light of a kerosene lantern at the base of the steps, Bill took a few steps to the side to check if the kerosene lamp in the outdoor bathroom was also lit. All of a sudden I heard "Whoa!", a thump, then silence. Now in the dark, in Africa, all sorts of scary creatures could elicit a "Whoa", though I suppose an "AAAGH" or an "EEEEEK" would be more likely. I spent a few careful milliseconds considering the possibilities before calling "Bill?" uncertainly. The uncertainty stemmed naturally from the fact that in the dim light Bill seemed to have vanished and the propriety of entering into conversation with anything else lurking in the darkness seemed questionable. After a few seconds I heard him say, "I'm down here" and something else that I missed due to my lack of fluency in French. He had just walked right off the unroped back side of the veranda (it had painted black decking – very stylish in the daylight) and twisted his ankle – no lion attack, no giant snake, just an unsafe veranda edge built to Zambian code.
Another spectacular Zambian sunset
We did finally drop off to sleep to the sound of lions, a juvenile Pel's Fishing Owl crying for its parents, and the rest of the wondrous symphony of the African night (including the zzzzz of mosquitoes daring to violate the sanctity of our mosquito net). Well at least I did. Bill put in his earplugs.